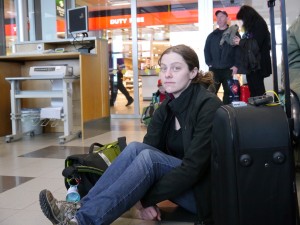 My name is Adriel Wallick and I am an independent video game developer based out of the Netherlands!
I am the organizer of an annual game jam known as Train Jam, a game designer, and a programmer. I have worked on a number of commercial releases, have participated in numerous game jams, and once spent an entire year creating a new game every week.
I enjoy traveling around to various game events, exploring new communities internationally, and speaking at events.
HISTORY
After growing up mostly in rural Pennsylvania, I moved to Boston and received my Bachelor's Degree in Electrical Engineering from Boston University in 2008.  Throughout my last year at Boston University, I worked on the Command and Data Handling system of the BUSAT nano-satellite
which was part of the fifth University Nanosatellite Competition.
Continuing on with my interest in work on satellites, I spent the first few years of my professional career working for Lockheed Martin on command database and simulation software for the Geostationary Lightning Mapper (GLM) instrument of the GOES-R environmental satellite and eventually moved to AER where I was part of the team which implemented the ground processing algorithms of the same GLM instrument.
After spending time learning the basics of game development in my spare time, I switched over to full-time game development after being offered a position as a programmer at Fire Hose Games as a programmer on the team that was working with Harmonix on Rock Band Blitz. I then spent time consulting with Infrared 5 as a programmer on projects ranging from children's games to museum installations before moving on to full time solo independent video game work. During this time, I was also volunteering as part of the original team putting together the indie MEGABOOTH.
I spent the next year being mostly nomadic while traveling around the United States and Europe attending events, collaborating with other developers, and working on my year long Game a Week project. This project allowed me to hone my design and prototyping skills, produced a number of interesting games, and gave me the opportunity to speak about game design and development in a very personal manner.
At the same time, I began organizing a game jam named Train Jam which takes place annually on an Amtrak train between Chicago, Illinois and San Francisco, California. Train Jam grew from 60 participants to over 120 in just one year and has created over 70 games total so far.
I am currently working on an unannounced games project, ongoing programming freelance work, as well as planning for next year's Train Jam!